There have always been many heated debates and arguments about who the GOAT is, who the best players of all time are, who your dream team is, and if certain players could play in specific eras. I have my reasons for who I selected on this list, and in my opinion, I think that this team could dominate any other starting 5 you could possibly draw up.
Now, this starting 5 is based on players if they were in their primes and able to play together then.
Point Guard – Stephen Curry
There is no doubt in anyone's mind that Steph Curry has made himself the greatest shooter of all time this past decade. He arguably changed the game of basketball to what it is now, where teams are encouraging everyone to shoot the 3 ball. Someone like that who has that big of an influence should be on everyone's all-time dream team, and that's why he's on mine.
He has an extensive list of records that I think will stay for a long, long time. He set the record for most made three-pointers in a season (402) and tied with his teammate, Klay Thompson, for most three-pointers made in a single playoff (98). Most three-pointers made in an NBA Finals game (8). Not to mention that he is going to break the NBA record for most three-pointers made all-time next season, passing Ray Allen. In fact, he will probably break that record within the first 2 months of the season!
His shooting is not the only thing that makes me choose him as well. He has great vision and on-court awareness to make the right pass at the right time. His elite playmaking ability and incredible handles make him one of the hardest players to guard, and with the rest of the players on my team, he will make defenses question whether or not they picked the right profession.
Shooting Guard- Michael Jordan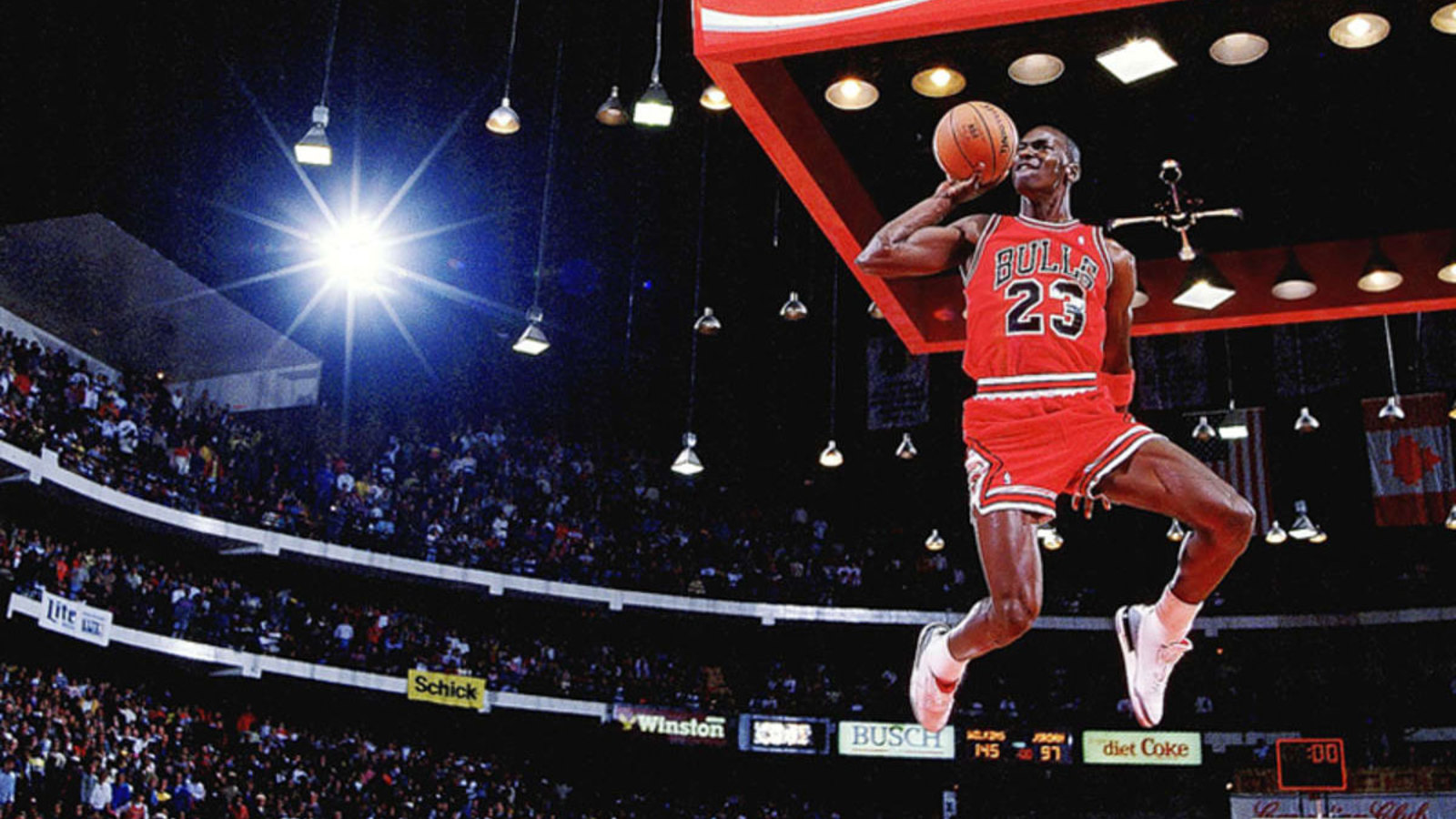 This is one that was very hard to choose; I was split between Michael Jordan, Kobe Bryant, and Dwyane Wade. Arguably the top three greatest shooting guards to ever play the game of basketball. However, like most people, I went with MJ slightly, and here are my reasons.
His ability to create his own shot is what makes him so elite. Not only can he knock down a standing shot, but he has the best mid-range game in NBA history. Don't even get me started on his ability to slash into the paint and get a bucket. He is so incredibly gifted at finishing at the rim that the Detroit Pistons literally made up "Jordan Rules" to foul him before he could even take off, and he STILL scored.
His incredible on-ball defense and work ethic also are benefits of having him on my team. Not to mention that if we ever need a basket in crunch time, I know who is getting the ball. Michael is arguably the most clutch basketball player of all time. Every time he had the ball with time counting down, you just knew that it was going in.
Small Forward- Kevin Durant
Now, THIS is going to make some people upset. Yes, I chose KD over LeBron. Why? Is it not obvious enough? Kevin Durant is the greatest scorer this generation has seen since Kobe Bryant. It's just that simple, folks.
I know that people are going to say that he is a snake to Westbrook and that his move to the Warriors was weak, and he got carried to a ring. But can we please acknowledge the fact that he was almost the #1 option every season and won finals MVP in back-to-back years.
He was the youngest player ever to win the scoring title, and he has a total of 4 now. It is so hard to guard someone that is 7 foot and can dribble like a guard. He is going to be the most efficient jump shooter on the team and score at any level.
As of recent years, he has also started to work on his defense, which is a big bonus. Although it is not elite level, his physical attributes will be more than enough to guard someone regardless of what position they play.
Power Forward – Shaquille O'Neal
This is another position that I was split on; however, I am going to go with the Diesel. I know that he is 7'1 but trust me, this is going to work out just fine. There is not much to say about Shaq that everyone doesn't know already. He was an absolute FORCE to be reckoned with in the paint. He absolutely dominated everyone he played against and treated them like "BBQ Chicken."
His stretch with the Lakers was one of the best we've ever seen from a Center since Wilt Chamberlain. He won MVP of the league in 2000 and won Finals MVP three years in a row. Down low, nobody could stop him. He was averaging nearly 28 points per game over that 4-year stretch on 57% shooting.
Not to mention his incredible athleticism for his size allowed him to block shots to a ridiculous extent, and he was able to outrebound almost anyone on the court. Prime Shaquille O'Neal was one of the greatest versions of any player, ever.
Center – Wilt Chamberlain
Many people will question why I did not have Shaq at the five position, but there's no reason not to have Wilt on this team. Yes, I know that he may have played against 'plumbers,' but did he put up BIG numbers back then. I think it's ridiculous that he went an entire NBA season averaging 50 points a game.
The reason why I have Wilt on my list in the first place isn't necessarily because of his scoring ability. I am more interested in his insane athleticism and rebounding abilities. He averaged 22.9 rebounds per game over his entire 14-year career. Nobody will ever do that again, EVER. It feels good to know that if there's a missed shot that my team is getting it because of my two big men who literally are rebounding gods.
—
Akshay is a rising senior at the University of Miami. He is studying Marketing with a minor in Sports Administration. He is joining Knup Solutions with hopes of being able to contribute to the team at a high level, with his high attention to detail and perfectionist personality. He has done recreational freelance work for online gaming and sports previously and is excited to use his skills in the real world.
---
Join our Discord
to leave a question or comment regarding this article. We have sports fans talking betting all day — every day! JOIN THE DISCORD NOW AND QUALIFY FOR PRIZES & BETTING SWAG!
---