"Where have all the big men in the NBA gone?" has always been the question since small ball became the common theme in the NBA.
The past decade has brought an evolution to the basketball world, with high-flying dunkers being out of favor for the new crowd of quick-trigger three-point snipers.
This change in the game has forced many teams to downsize to clear out the painted area and create space for ball movement along the perimeter and allow smaller guards to have the freedom to penetrate the lane with relative ease. Modern centers have to be able to keep up with guards outside their usual comfort zone and be able to spend some time away from the basket on offense if they want to survive.
There have been excellent "big man" shooters in years past, none more so than former Dallas Maverick Dirk Nowitzki, but the relative frequency of the taller players preferring to become jump shooters has increased drastically as of late. Thus, the stretch 4 became a huge asset for each team.
Kristaps Porzingis is an excellent example of what the big man has evolved or devolved into in today's NBA— the 7-foot-3 Porzingis spent a majority of the playoffs camping on the three-point line, and 37.5% of his attempts were from long-range, with the rest primarily composed of pull-up or turnaround jumpers over smaller defenders. Porzingis is not the best example of a proficient shot selector, often backing down from physical contact and playing closer to 5-foot-3 than his actual height, but he is a representation of what the big man prototype is.
Despite all of these changes in expectations, three big fellas stick out in particular as the elite of the elite.
Anthony Davis
"AD" would have been higher up the list had it not been for a suboptimal, injury-riddled season.
Anthony Davis is a perennial threat for Defensive Player of the Year, has made two All-NBA First-Team Defense teams, and led the league in blocks twice.
Davis transformed the Los Angeles Lakers after being acquired from the New Orleans Pelicans in a trade for Lonzo Ball, Brandon Ingram, and Josh Hart, along with draft picks, winning the NBA Finals in his first season and living up to the expectations that come with being in a major market.
Davis is a career 23.9-point, 10.2-rebound performer that has made eight All-Star games and four All-NBA First-teams. He grew up as a point guard and combines exceptional ball-handling skills with his enormous physical presence, creating a nightmare matchup for defenders when he is headed downhill.
"AD" also has an elite mid-range game and can step out to knock down threes when asked, though the majority of his damage is dealt around either of the blocks and the few feet beyond.
Joel Embiid
The physical representation of "the process" was once told that he could go on a date with Rihanna if he made an All-Star team; now, as a four-time All-Star and top-two MVP candidate, Joel Embiid has transformed himself into a menace on both ends of the court.
Embiid's incredible size at 7'0, 280lbs makes him virtually immovable under the basket, and his quick footwork allows him to take away any advantage that smaller defenders may possess. The Sixers' star averaged 28.5 points and 10.6 rebounds this season and terrorized every team in the league, helping to lead his squad to the #1 seed in the Eastern Conference and easily breeze by the Washington Wizards in five games during the opening round of the playoffs.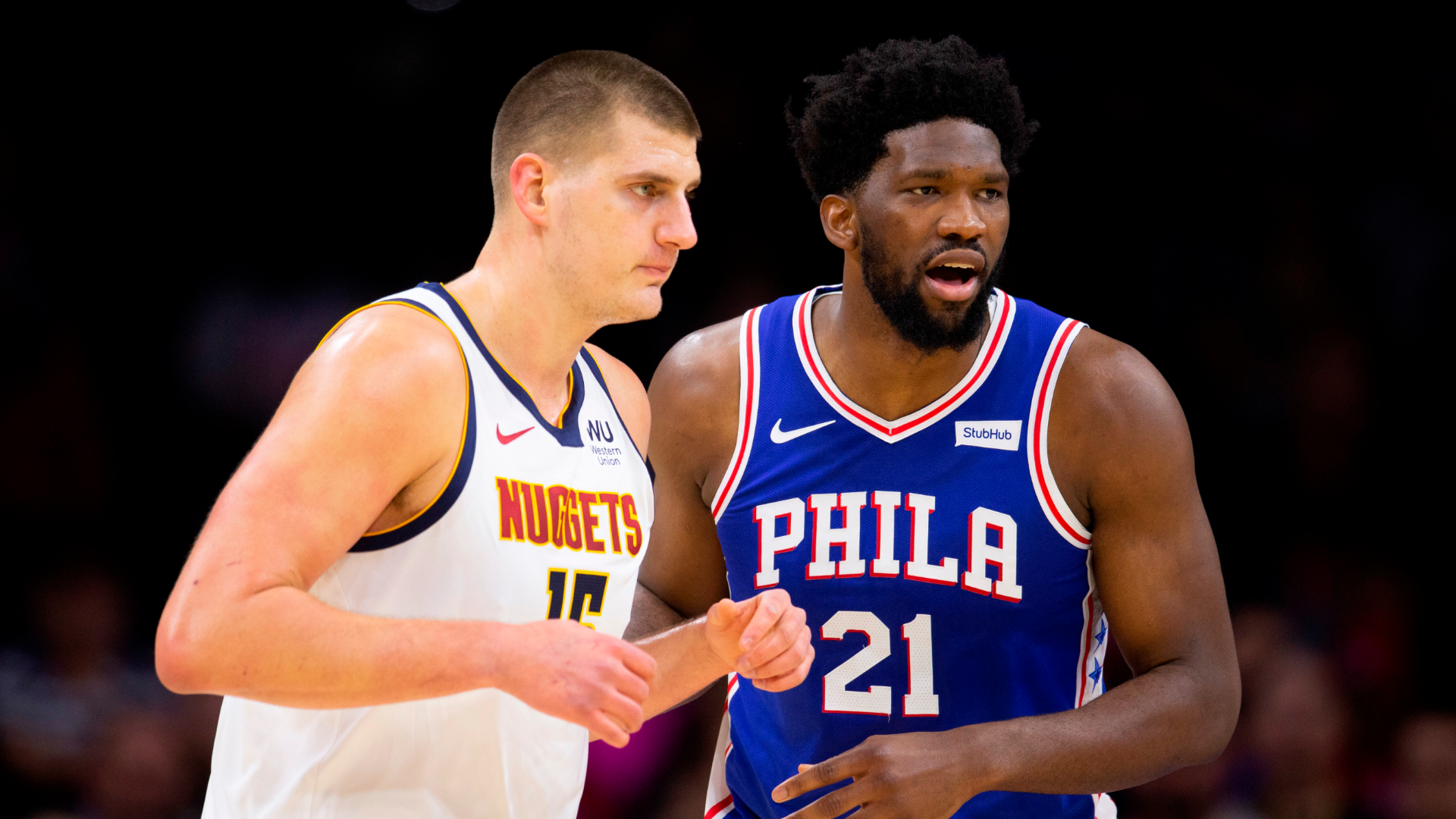 Concerns over the big man's health and durability have been valid over the years, and he is currently dealing with a partially torn Meniscus, but he looks to have increased his cardiovascular ability.
The real steppingstone for Embiid will be to make the NBA Finals, a feat which he memorably had snatched from his fingertips by a Kawhi Leonard buzzer-beater in Game Seven of the 2019 NBA Eastern Conference Finals.
Nikola Jokic
The soon-to-be MVP has been getting better and better since being drafted in 2014 and helped lead the Nuggets to the third seed in a loaded Western Conference this season. "The Joker" was a 26.4-point, 10.8-rebound, 8.3-assist per night performer in 2020-21 and maintained shooting averages of 56.6% on field goals, 38.8% on threes, and 86.8% at the free-throw line.
Nikola Jokic's incredible campaign is one of the best in the past decades despite his notoriety being significantly lower than all of the previous winners. Perhaps it is his lack of athleticism, European background, or unorthodox style that are responsible, but regardless, Jokic is now the best big man in the league.
Jokic is the first full-time point center in NBA history and can score from anywhere on the court, including a patented one-foot fadeaway off the wrong foot that he loves to shoot at the end of the shot clock.
The Nuggets lost second leading-scorer Jamal Murray on April 12th, but Jokic was able to elevate his play to an even greater level and lead Denver on a 13-5 stretch to finish the season. He has proven his abilities as an individual, a teammate, and a leader and is fully deserving of the 2021 MVP award.
Not only is he the best big man in the league, but he was the best regular-season player this year. He will now be chasing a similar title in the playoffs, starting with a second-round face-off against the Phoenix Suns.
—
Grant Mitchell is a sportswriter and multimedia contributor for the Sports 2.0 Network dealing with basketball, football, soccer, and other major sports: you can connect with him on Twitter @milemitchell to stay up to date with the latest sports news and to engage personally with him.
---
Join our Discord
to leave a question or comment regarding this article. We have sports fans talking betting all day — every day! JOIN THE DISCORD NOW AND QUALIFY FOR PRIZES & BETTING SWAG!
---