It's great. To be. A Miami Hurricane! The boys from Coral Gables strolled into Greensborough, South Carolina and put a beatdown on one of the best teams in the country, handing Auburn an 18 point loss to end their season. Auburn struggled all night, and their fans are not used to seeing a loss of that proportion.
Miami has shown when they play well they can hang with any team in the country. Last night they showed they can not only hang with, but beat the best of the best. Their scramble defense has been extremely successful in the tournament so far, as the Canes have a +24 turnover differential in the tournament so far.
I'm going to give you a breakdown of the game with some statistical analysis. Read to find out how Miami was able to pull off one of the biggest upsets of the tournament!
Stellar Defense
The Hurricanes have played unbelievable defense in their first two matchups, holding both USC and Auburn below 67 points. Miami has only had 7 turnovers in their first two games while they've forced 31.
The Hurricanes rallied behind Charlie Moore and Isaiah Wong, who both had incredible nights. Wong had a stunning dunk over potential number 1 pick Jabari Smith, and now has 20 points in his first two NCAA tournament games. He is the first Miami Hurricane ever to do so. Floor general Charlie Moore had three steals, nine rebounds and eight assists on top of his 15 points.
The Hurricanes held four of Auburn's starters under 25% shooting, which includes Jabari Smith (18.7%) and Walker Kessler (0%). Kam Mcgusty, Isaiah Wong, and Charlie Moore all had two or more steals, and all five Miami starters had at least a steal or a block. The Canes are locked in defensively.
Auburn struggled from the field
Miami's defense was too much for the Tigers, as they turned over the ball 13 times in this game. Kam Mcgusty had four steals for the Hurricanes who were picking pockets all over the floor. They had ten steals in this game alone.
Sam Waardenburg also helped out on defense, stuffing Auburn's Jabari Smith in the post. The Tigers' Walker Kessler was quiet and had two fouls early on in the game, limiting his playing time. Kessler was 0/6 from the field, and his only points were two free throws in the first half.
Auburn shot 30% from the field and 19% from three. Miami only shot 20% from three, but was much more efficient in transition, outscoring the Tigers 30-1 on the fast break.
Auburn's best player was easily K.D. Johnson. He only had 12 points but was clearly running the floor for Auburn and scored their easiest buckets. Coming off the bench Jaylin Williams also played well, posting a stat-line of 12 points and four rebounds.
Second Half Hurricanes
The first half was very close, as Auburn ended the half on a 6-0 run that brought the Hurricanes lead down to 1. Unfortunately for Auburn fans Miami would pull away in the second half, outscoring them 46-29 in the second half.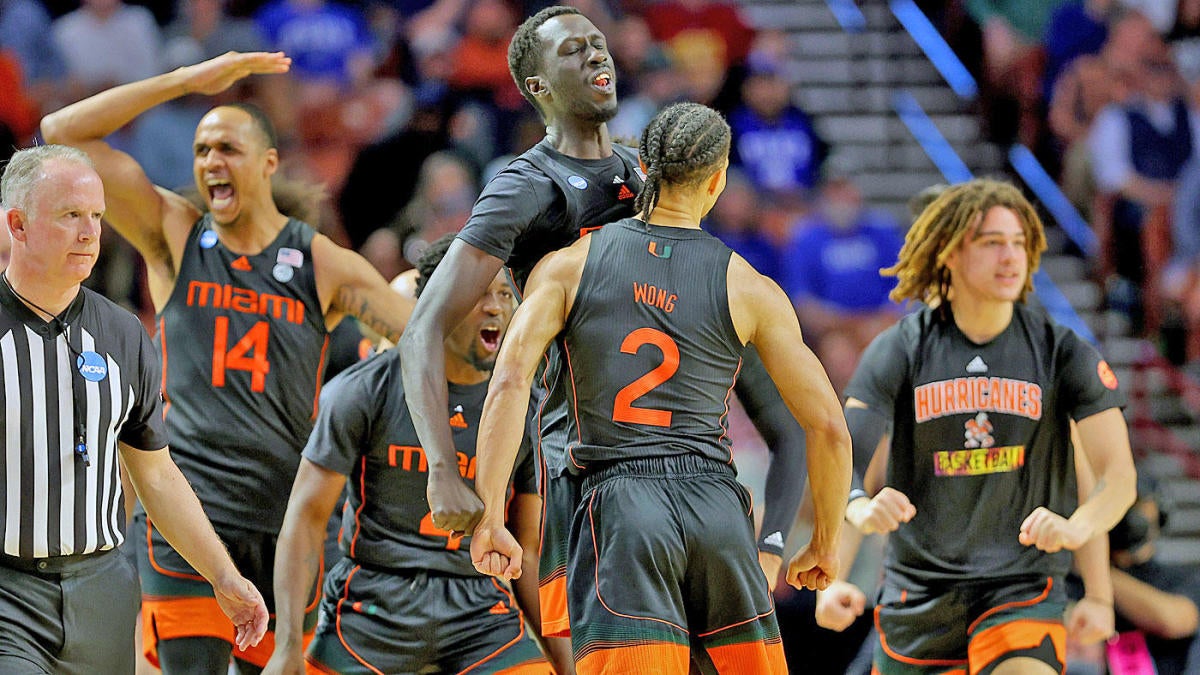 The whole team contributed to the effort, with Kam Mcgusty, Isaiah Wong, Jordan Miller, and Charlie Moore all scoring 12+ points. Sam Waardenburg had two blocks, making his tournament average three blocks per game.
Mcgusty and Wong both had 20+ points shooting 45%+ from the field. Mcgusty had four steals on the night and helped Miami to their biggest win of the season. Miami finished the game out on a 13-3 scoring run and handed Auburn their largest loss of the season, 79-61.
The Hurricanes will fly to Chicago to face Iowa State in the sweet sixteen. This is Miami's first sweet sixteen since 2016. Coach Jim Larranaga will be making his second sweet sixteen appearance after taking his 11-seed George Mason to the Final Four back in 2006.
---
Join our Discord
to leave a question or comment regarding this article. We have sports fans talking betting all day — every day! JOIN THE DISCORD NOW AND QUALIFY FOR PRIZES & BETTING SWAG!
---