It appears the players aren't the only ones prone to being suspended for an extended period of time. The man reported to be Kevin Durant's personal bodyguard has been banned from the remaining series games in Milwaukee and will not be allowed to sit courtside for the games in Brooklyn. With the series tied at two games apiece, the Nets could potentially be losing a very valuable piece to their new and improved lineup that was produced this season.
In case you missed it, let's review what went down in game 3 between the Brooklyn Nets and the Milwaukee Bucks at the Fiserv Forum in Milwaukee, Wisconsin. Late in the third quarter, Durant and PJ Tucker came face to face after a common foul was committed by Tucker. The two exchanged words, and the incident rapidly escalated as teammates and officials attempted to intervene in the encounter.
However, those weren't the only parties involved. A man dressed in all black jumped in the middle of things while shoving PJ Tucker. His attention shifted from fully being on Durant to now the person who just shoved him.
The man wearing all black is 35-year-old Nets security official Antjuan Lambert. He's also Durant's personal bodyguard and was hired upon his request. Apparently, this isn't so uncommon in the NBA, and many stars have someone in their corner.
What He Should Have Done Differently
Lambert may still possess courtside rights if he weren't so fast in deciding to shove PJ Tucker. Getting in between the altercation is his job, and had he done it the right way, the outcome would have been different.
Instead of engaging Tucker in a heated argument, Lambert should have tended to his client Kevin Durant. Guard Durant, don't touch Tucker.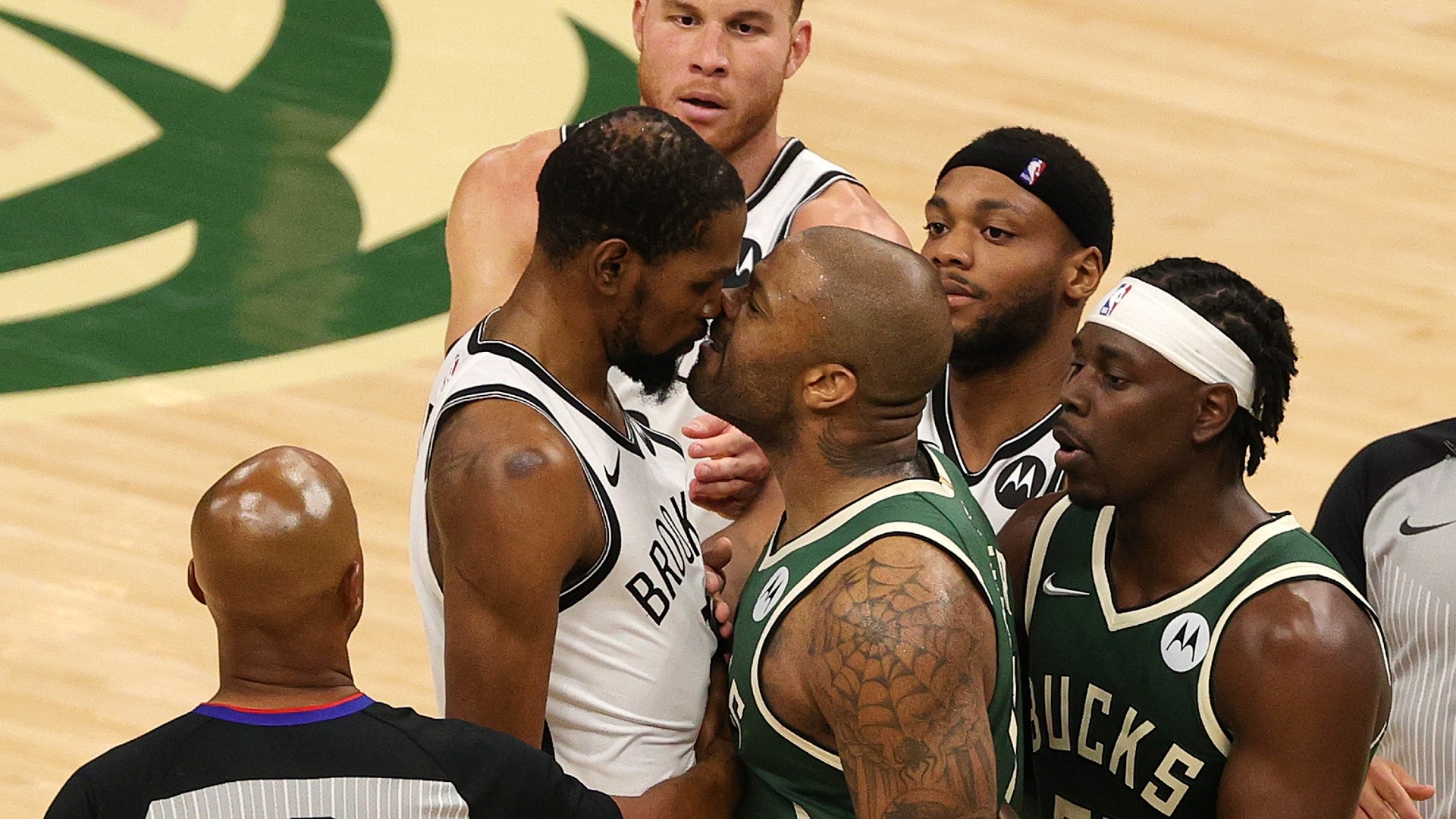 Oftentimes when someone as valuable as Durant gets in an altercation, you see teammates rushing over to prevent the situation from getting any worse. In this case, that's the sole job of his bodyguard. It's these situations that Lambert was hired for; he just didn't execute his job in the correct manner.
Bucks Thoughts
Bucks head coach Mike Budenholzer expressed his surprise by saying:
"To be completely frank and honest, in the heat of the moment, I have no idea who that guy is with or who he is affiliated with. It could be Fiserv Forum Security, could be Bucks security, could be Nets security."
Bucks forward, Bobby Portis also added a comment:
"It's kind of crazy that he just attacked P.J. and pushed him specifically. Most of the time, team security comes in and gets in between everybody, so he probably did cross the boundaries with that."
Everyone can agree that the altercation deserved to be intervened. However, was the situation so dangerous that it called for Durant's bodyguard to come to the rescue? Probably not.
I anticipate for Lambert to bounce back from his decision and for him to reconnect with Durant off the floor. Perhaps, that was part of the reason for the Nets' struggles in game 4. He is a key contributor in leading the Nets to their ultimate success.
---
Join our Discord
to leave a question or comment regarding this article. We have sports fans talking betting all day — every day! JOIN THE DISCORD NOW AND QUALIFY FOR PRIZES & BETTING SWAG!
---