For the last couple of weeks, the Los Angeles Lakers wanted to add a point guard for the last roster spot. The Lakers were interested in bringing back Isaiah Thomas, who had a workout with former Cleveland Cavaliers teammate LeBron James and newly acquired star Russell Westbrook. Thomas played seventeen games for the Lakers in 2017.
Thomas has had a tough time securing a role on a team since the horrific injury right femoral-acetabular impingement with a labral tear in the 2016-17 playoffs. The veteran guard still has something to prove, as he scored 81 points in the Crawsover Pro-Am game in Seattle, where he scored 40 points in the first half and 41 in the second.
Thomas only appeared in three games last season for the New Orleans Pelicans. Ever since his big injury in the playoffs, Thomas has only appeared in 87 games since 2017. He also played for five different teams in that short span.
Isaiah Thomas Chances of Becoming a Laker is Good as "Zero"
It clearly looked like Isaiah Thomas was going to be in purple and gold for the upcoming 2021-22 season. However, the Lakers' front office stated that they were monitoring the Rajon Rondo situation as the Memphis Grizzlies were considering buying him out after acquiring him in the deal that sent Eric Bledsoe to the Los Angeles Clippers.
The Los Angeles Clippers traded Lou Williams and two second-round picks to acquire Rondo. However, the Clippers did not meet the expectations as he was underwhelming as he dealt with an injury. He couldn't bring the same impact as he did with the Lakers, which led to the end of his Clipper tenure.
The Memphis Grizzlies had other ideas as Rondo was not a part of their plans. The Grizzlies have a young, explosive point guard in Ja Morant and two young backup point guards in De'Anthony Melon and Tyus Jones. Rondo will be clearing waivers on Monday and most likely ruined Thomas' chances of a potential reunion with the Lakers.
The Grizzlies also flipped veteran point guard Patrick Beverley for several young players who either have upside or can be a key reserve moving forward. They include Jarrett Culver, Daniel Oturu, and Juancho Hernangómez.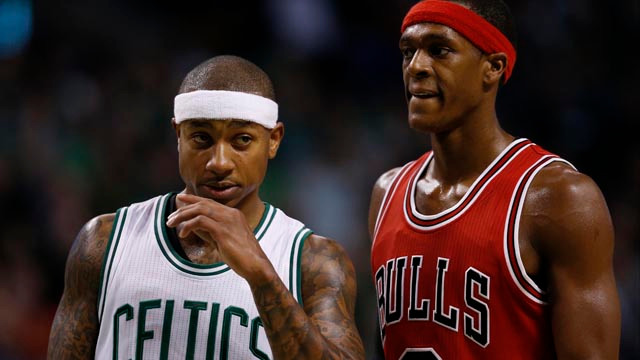 Rajon Rondo will Most Likely be the Last Piece to Fill Out the Roster
Rondo averaged 5.4 points and 4.4 assists in 45 games with the Atlanta Hawks and Los Angeles Clippers last season, shooting a career-best 40.4% from the three-point line. Rondo had a strong impact in the "NBA Bubble" in Orlando, where the Los Angeles Lakers secured their first title since 2010.
Memphis certainly looked to trade this offseason but most likely had no luck finding a team that was going to take his contract as he enters his final year. The Grizzlies could have easily just have waived Rondo, which allows any team in the league to pick him up once he clears waivers, but agreeing to a buyout allowed him to choose his most desired location.
During their championship run, Rondo was the glue for the second unit. He was able to be a playmaker, scorer, and defender off the bench. He will also be joining a big list of former Lakers who joined this offseason Trevor Ariza, Wayne Ellington, Kent Bazemore, and Dwight Howard, who he won a ring in "The Bubble" with.
Being back in familiar territory, the Staples Center for another season, but a second stint with the Los Angeles Lakers again. Will Rajon Rondo thrive and be able to match the impact he portrayed during the first stint?
---
Join our Discord
to leave a question or comment regarding this article. We have sports fans talking betting all day — every day! JOIN THE DISCORD NOW AND QUALIFY FOR PRIZES & BETTING SWAG!
---