LaMarcus Aldridge recently came out of retirement to rejoin the Brooklyn Nets, as he was forced to step away from the game of basketball back in April due to heart issues.
In 5 games with the Nets last season, Aldridge averaged 12.8 points per game on 52.1 percent shooting from the floor, showcasing the post moves and shooting prowess that has earned him much success throughout his 15 years in the league.
The Nets also appeared to find their replacement for DeAndre Jordan in their starting lineup at the center position, as Jordan struggled to protect the rim and play any meaningful defense whenever he was out there on the floor.
Aldridge wasn't a perfect defender, but he showcased a better ability to defend in drop coverage than Jordan did during his short stint in Brooklyn.
Offense is where the Nets will see the best production out of the seven-time All-Star, as he'll help stretch the floor even more next to the likes of Kevin Durant, Kyrie Irving, and James Harden.
As rare as it'll be, on occasions where any of the "Big 3" don't have their shot, the Nets will just have the luxury of dumping it down low to Aldridge, Aldridge can body-up his defender and showcase his wide array of hook shots or simply turn around and knock the fadeaway jumper, and it'll be pretty much automatic, especially on the low volume of attempts he'll get on a nightly basis.
Don't be surprised, however, if we see a vintage 30 point, 15 rebound performance from him every now and then.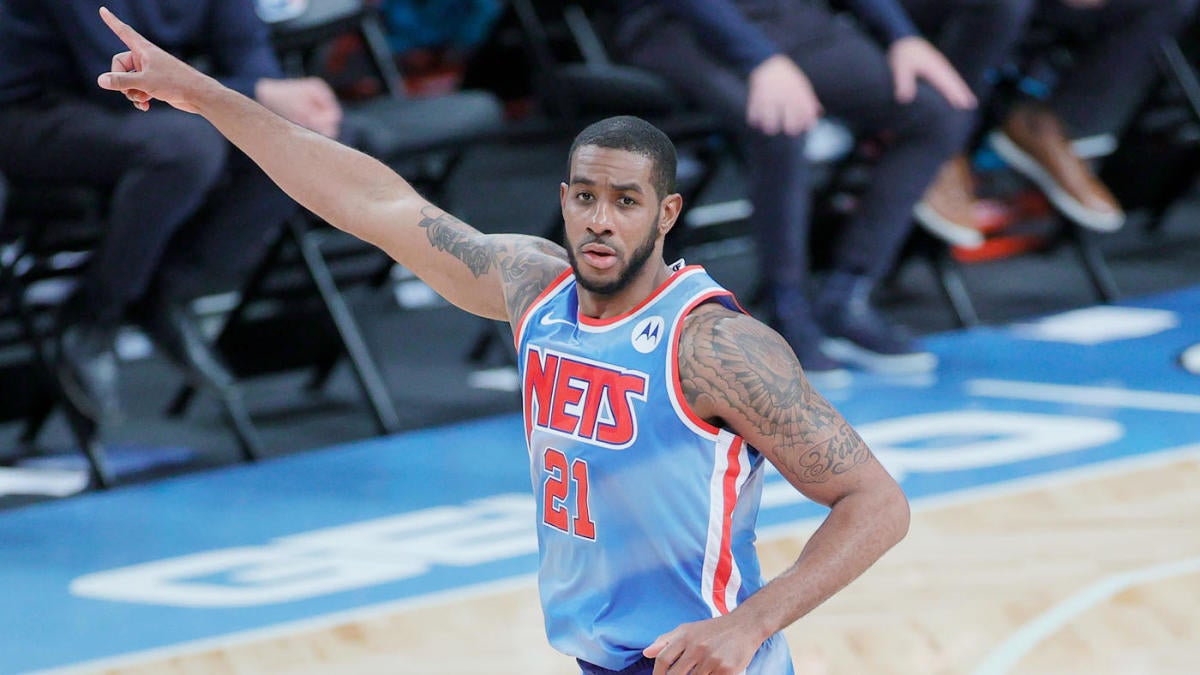 Throughout his career, Aldridge has been one of the game's more underappreciated superstars. In stints with the Portland Trail Blazers and San Antonio Spurs, he consistently averaged around 20 points per game on nearly 50 percent shooting from the floor and double-digit rebounding totals. He was also reliable on a consistent basis to stay healthy.
Brooklyn possesses arguably the deepest roster in the league at this current moment, as they also have Blake Griffin, Paul Millsap, Bruce Brown, Patty Mills, and Joe Harris as part of their rotation.
Given the top-heavy and deep nature of Brooklyn's roster, expectations will be high, and don't expect opposing players, fans, and the media to show any mercy to this squad if they don't get the job done.
The best teams in any sport usually get the most hate, and given the polarizing personalities of Irving, Durant, and Harden, the Nets will be no exception.
But a potential feel-good story could come out of next season for the Nets if Aldridge comes back and wins a championship after going through a bout of depression following his premature exit from the sport he loves, especially when you consider that he thought he finally found the right situation for himself.
"It was tough because I felt I was at a location and with a team that embraced me," Aldridge said (via The Athletic). "I embraced them. We all had a common goal, and we had chips on our shoulders to prove something. It was bitter for me. I had finally found the cohesiveness that I had wanted for a while in a group. And then, all of a sudden, I can't play anymore. I felt if I stayed with the group, we definitely could get to the Finals and do something special. Those guys rooted for me just as much as I rooted for them. That's what makes the game fun; when you have a bunch of guys with no egos and everyone's cheering for each other to do well."
If Aldridge adds a ring to his collection, then his Hall of Fame case will become significantly stronger once he decides to hang up the sneakers for good.
---
Join our Discord
to leave a question or comment regarding this article. We have sports fans talking betting all day — every day! JOIN THE DISCORD NOW AND QUALIFY FOR PRIZES & BETTING SWAG!
---