This list of the best NBA players is nothing more than a personal take, I will support all five players. All players will be in a different position, so it's more of an all-time starting five. Also, I'm no more than a fan, so of course, there will be some personal bias in here.
Point Guard
For point Guard, it will be Magic Johnson, a 5-time champion. There have been a lot of great passers in the NBA, like Pistol Pete, Larry Bird, Steve Nash, Dereck Williams, and John Stockton. However Magic was the greatest, every game he had multiple assists that made you wonder how he did that.
Magic was also a great all-around guy, he could score (not like MJ), play defense, and rebound. His size also lets him play any position, and guard anybody in the league. That is still uncommon, and there's only one other player close to this all-around talent (Lebron James).
For playoffs, he might have the most clutch shot (that wasn't an MJ shot), but the hook against Bird will be engraved in all Celtics and Lakers' memories. How about the time he started as a center in the finals (they also won that game). Magic Johnson for his leadership, outstanding passing, and his ability to run the fast break is the point guard of my team. 
Shooting Guard
Micheal Jordan is of course the starting shooting guard, it would be hating on greatness if I didn't have him right here. Jordan is on here for his fantastic scoring, personally, he's the best scorer ever. Also, if you need the steal for a tempo change this is your man.
His defense was overlooked, he had 9 all-defensive teams throughout his career. He may not be as versatile as Magic, but he will be the leading scorer. Plus, the guy that sets the mentality of the frontcourt. 
For clutchness, do we even need to talk about it? I'll just do a shortlist of games, a 60 point game against the Celtics (that Celtics team later won the finals), the flu game, the shrug, and of course, the shot 1 and 2. Any person without the GOAT is greatly underrating the man's greatness.
Small Forward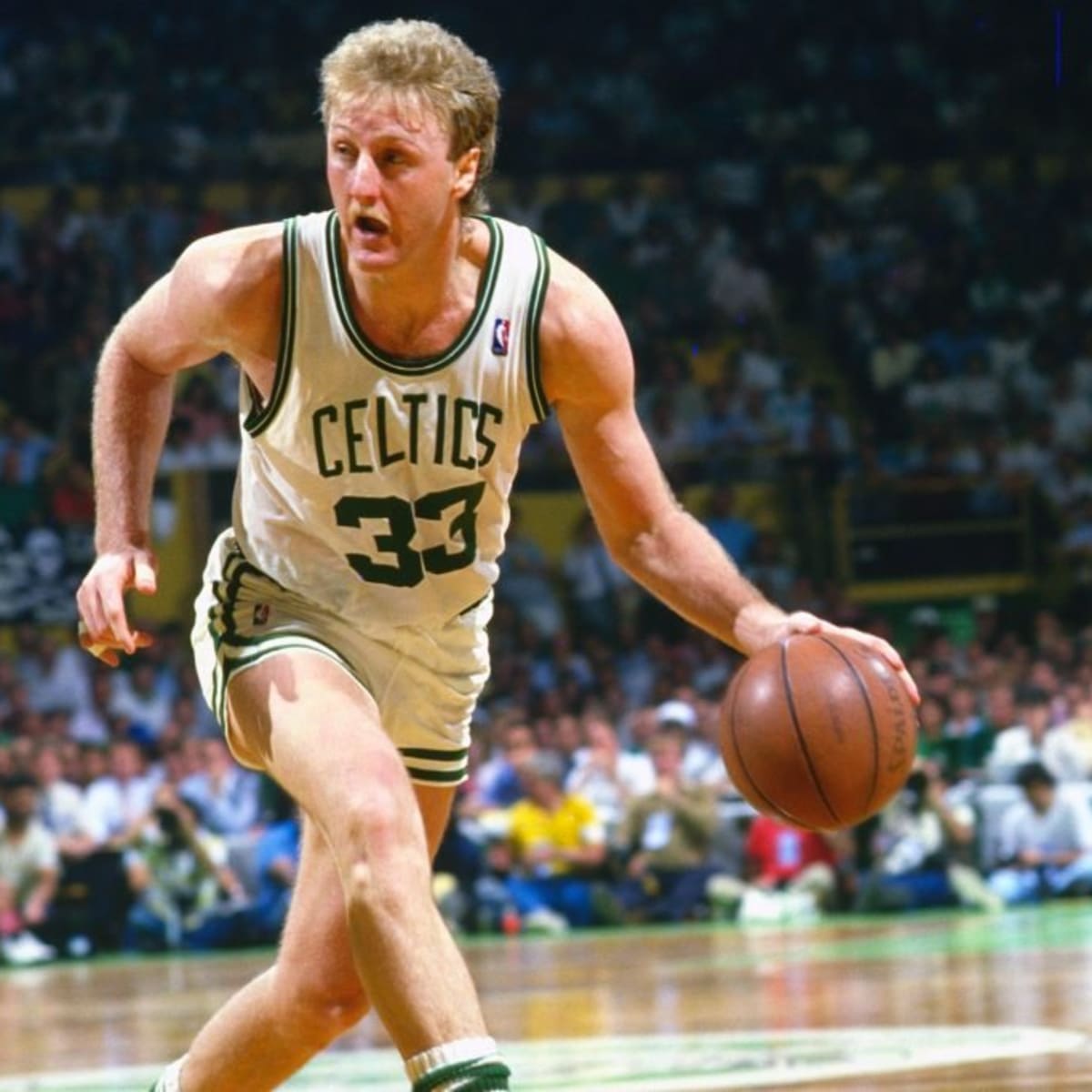 This will be the biggest hot take on the list, but for small forward Larry Bird. Larry might seem like the wrong choice, because of James, but he can hold his own. Bird won three MVPs and has beat some of the greatest teams ever, like the Lakers, bad boy Pistons, and the Rockets. 
Lebron on the other hand has beat the big three Celtics and the 73 win Warriors team. Lebron is great, but for shooting guard Bird is my choice. Bird for a long time (probably until Reggie Miller) was the best three-point shooter and played great defense. 
Bird also has some really memorable moments like the steal, the game where he only used his left hand, and of course his performance against the Hawks (where he scored 63 points). Larry Bird was a smart and a tough defender also and could guard front or backcourt players. 
Power Forward
This next player will not be Tim Duncan, who was very close to making this list, but instead Lebron James. This might sound strange, but like Magic, he can play about any position on the court. He's a great scorer, and can positively impact any team he's on.
First, he is one of the best slashers in NBA history, his three-pointers, and free throws or off. However, he can score effortlessly driving the basket. He can also play pretty good defense. He can also rebound the ball well. 
Lebron, just like the others, plays great, and of course has some clutch moments, like the 2016 NBA finals, the 2011 Celtics series, and the 2007 Cavs team. Lebron might not be the clutch guy, but he isn't unclutched. He has his fair share of memorable moments and his driving ability is an assist to any team.
Center
For center, it is Kareem Adhul Jabbar and his incredible hook shot. This might be a hot take, but it's hard to argue how dominant he was for 19 years. He is the all-time leading scorer and might be the most awarded player ever.
Russell might have the rings and Wilt might have the offense, but if you combine them we get Kareem. It's hard to score on him, and it's even harder to stop his skyhook. Then if he misses he'll most likely get the rebound because of his height and toughness. 
For all-time clutch performances, there was his championship run with the Bucks and of his multiple rebound/block last-second shots. WIth Kareem, in the center, your frontcourt would be historically great. He would make any teams per game paint defense and rebound go up by quite a bit. 
---
Join our Discord
to leave a question or comment regarding this article. We have sports fans talking betting all day — every day! JOIN THE DISCORD NOW AND QUALIFY FOR PRIZES & BETTING SWAG!
---