To kick off our NBA news this week, Chris Paul turned back the clock with a magical performance in Game 1 of the 2021 NBA Finals. Paul finished with 32 points and nine assists, including an and-1 floater into the chest of Giannis Antetokounmpo to put away the Bucks for good, 118-105.
"When it's going like that, you just want to space the floor well and let [Paul] orchestrate," Suns Coach Monty Williams said. "I thought he was making the right plays. They were switching a ton. He was making shots. When he's in that mode, we feed off of that."
The Suns looked like the better team ever since a brief run heading into halftime. Phoenix went up eight at the break and never looked back. Paul and Devin Booker have been dominating the mid-range game, with most of their jump shot coming from the free-throw line and in.
Antetokounmpo was upgraded from doubtful to questionable, and in warm-ups, it looked like it was a no-doubter that he would suit up. Giannis came in and, on the first play, went up for an alley-oop which seemed to quell any questions about his health.
The Greek Freak finished with 20 points and 17 rebounds, going for 7-12 at the free-throw line, with the Phoenix faithful counting every second of his routine before the shot.
Khris Middleton played like an all-star with 29 points and some big-time shots that helped the Bucks hang around and cut the lead down from 19 to about seven with around five minutes to go.
That was as close as it got for Giannis and the Bucks as Chris Paul proved to be too much and propelled the Suns to a 1-0 series win.
Luka does what Luka does
Luka Doncic finished with a triple-double in a win for Lituania to earn a birth into the Olympics for the first time in the country's history.
Slovenia beat Lithuania 86-75 behind the tournament MVP's 31 points, 11 rebounds, and 13 assists.
"I don't care about the MVP," Doncic said.

"We won here. We're going to the Olympics, the first time in our country. It's amazing. I think every kid dreams about being in the Olympics. I did, too. So, here we are. We fought really, really hard, and I think we deserve to be here."
Slovenia was one of four nations playing for a berth into this summer's Olympic games.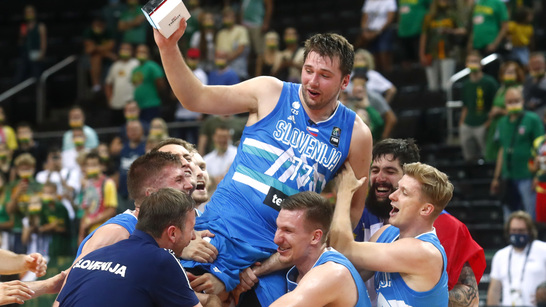 Canada was one of those countries that was eliminated from the 2021 Olympics by the Czech Republic. Canada lost 103-101 in an OT thriller, falling way short of what many thought was a talented team.
"I'm very disappointed for these guys," Canada coach Nick Nurse said. "They committed, and we worked super hard, and we prepared hard, and they played their guts out. When you do all that, you want them to be rewarded for it."
A roster that boasted multiple NBA players, including RJ Barrett, Nickel Alexander-Walker, Andrew Wiggins, and Luguentz Dort, just wasn't good enough for team Canada.
Wiggins did hit a huge game-tying three to force overtime off an Alexander-Walker steal, but the Czech Republic held tough behind a huge shot from Tomas Satoransky (Chicago Bulls) with 1.8 seconds left to seal the win.
NBA Expansion team
Adam Silver has been talking seriously about adding an expansion team following a huge loss in revenue in 2020.
Owners across the league will receive an immediate injection of cash following the addition of a new team.
Seattle is the popular choice for an NBA team at the moment. The Seattle Supersonics had a rabid fanbase and successful franchise before moving to Oklahoma City in 2008 and becoming the Thunder.
Las Vegas is another city that has gained traction as a potential destination for an NBA team after proving they can support both an NHL and NFL franchise. Las Vegas has never had an NBA team.
"Returning to Seattle as part of the process is almost a given," said Michael Grange of Sportsnet. "Now that the arena issues that led to the Supersonics leaving for Oklahoma City in 2008 have been resolved."
The most recent NBA expansion was back in 2004 when the then-Charlotte Bobcats (now the Hornets) joined the league.
---
Join our Discord
to leave a question or comment regarding this article. We have sports fans talking betting all day — every day! JOIN THE DISCORD NOW AND QUALIFY FOR PRIZES & BETTING SWAG!
---