This past month has been an exciting one for fans of the Miami Hurricanes. Perennially known as a football school, the Hurricanes Men's basketball team made it to the Elite Eight for the first time in school history this year, and they hope to continue their success by adding a phenomenal transfer in Nijel Pack.
Welcome to Miami, Nijel Pack
Pack is a 6'0" point guard coming to Miami from Kansas State. He averaged 17 points, 4 rebounds, and 2 assists per game despite playing on a K-State team that won only six games in 2022. Pack did however score 31 and 35 points against Baylor and Kansas this season, showing he can score against elite defenses.
Pack also brings a phenomenal 44% three point shooting percentage to Miami, a statistic that the Hurricanes need if they want to remain relevant. Miami is losing seniors Charlie Moore, Kameron McGusty, and Sam Waardenburg, so signing arguably the best transfer in the portal is exceptional for the Canes.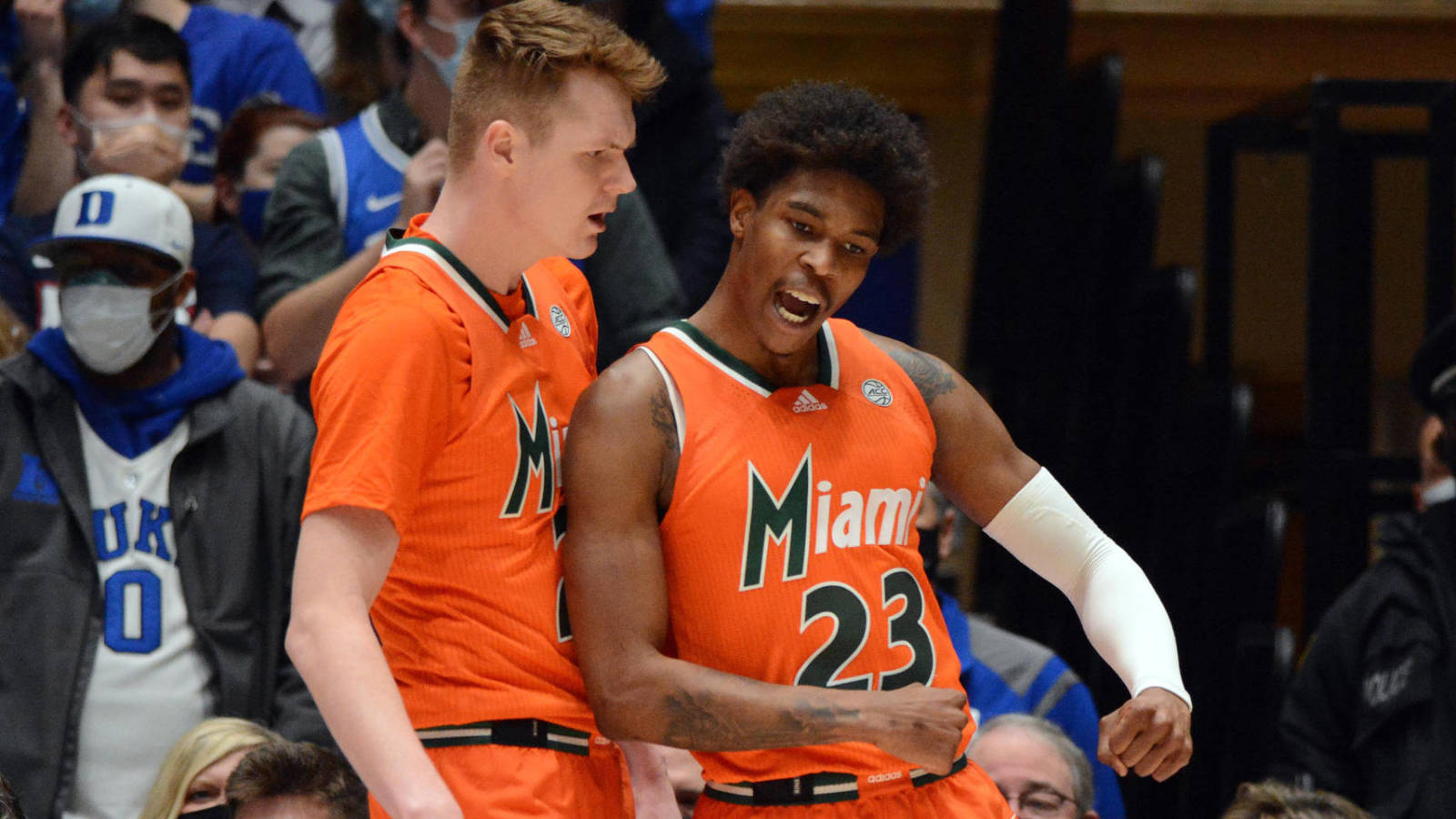 Pack's ability to pull up and release the ball quickly is beyond impressive. His shot is very clean and he has the ability to get hot and drop 20+ points in a half. He led the Big-12 in 3-point percentage and 3-pointers per game. He was awarded all Big-12 honors last year including Most Improved Player.
Pack had standout performances this year against Baylor and Kansas, despite the Wildcats losing those games. When playing against opponents that made the NCAA tournament, Pack averaged almost 20 points per game. He scored 30+ against Kansas, Baylor, and Iowa State, all of whom made it past the first round of the tournament.
So long, Wong
Unfortunately for Miami Hurricanes fans Isaiah Wong has just announced his plans to declare for the draft. Wong was a superstar for the Canes this season averaging 15, 4, and 2 on 45% shooting. Although Wong is declaring for the draft, he maintains his eligibility, so if he is not drafted he'll return to Miami and play with Pack in the backcourt.
Wong's choice to declare is a very interesting one. In my eyes he has the opportunity to form himself into a leader and even better scorer with one more year under Coach L. Wong obviously knows what's best for him, and I look forward to seeing him play in the NBA or back with the Hurricanes next season.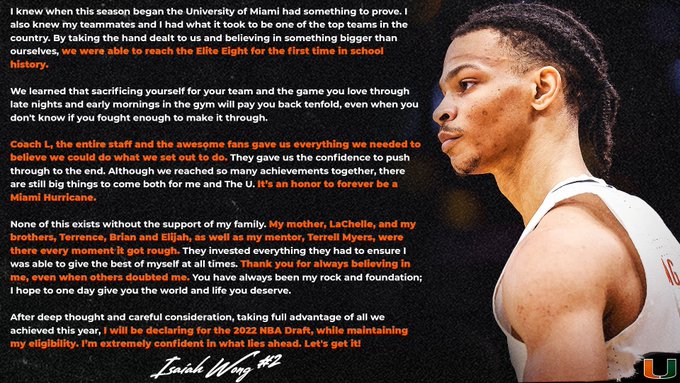 I know Wong is declaring, but it seems to me that he may not be drafted, in which case he would be playing with Pack next year. These two, if they end up playing side by side, could be even more dangerous than Wong and Charlie Moore in this year's tournament. 
Is Miami a basketball school now?
Miami will continue to try to improve with Pack running the point next season. In addition, Coach Larranaga will be trying to add more transfers, including a center. Arkansas State's Norchad Omier is one of the best options in the transfer portal.
Omier is tough, quick, and can shoot the ball pretty well. Obviously he can dunk and he's a good inside player with clean post moves. He's by no means a perfect specimen, he's a tad undersized for center and has played lesser competition, but could still be a huge addition from the transfer portal for Miami. I'm expecting the Hurricanes to have another phenomenal season and finish in the top three of the ACC in the regular season.
---
Join our Discord
to leave a question or comment regarding this article. We have sports fans talking betting all day — every day! JOIN THE DISCORD NOW AND QUALIFY FOR PRIZES & BETTING SWAG!
---