If you did not know the name Paige Bueckers before the 2021 basketball season, you do now. Bueckers was the number one recruit in the class of 2020, and she did not disappoint in her first season as a Husky.
On Wednesday, the UConn guard was named the Associated Press Women's Basketball Player of the Year. She is the first freshman in NCAA history ever to receive the award.
Paige Bueckers, the Freshman Phenom
Paige Bueckers went 8 for 11, scoring 17 points in her first game at UConn on December 12, 2020. The guard showed her elite ability, but nobody would have imagined that Bueckers would have the most outstanding freshman season in NCAA history.
It would take a novel to list all of Bueckers' 2020-21 accolades because she dominated every opponent that stood in her way this season, leading UConn to their 13th straight Final Four.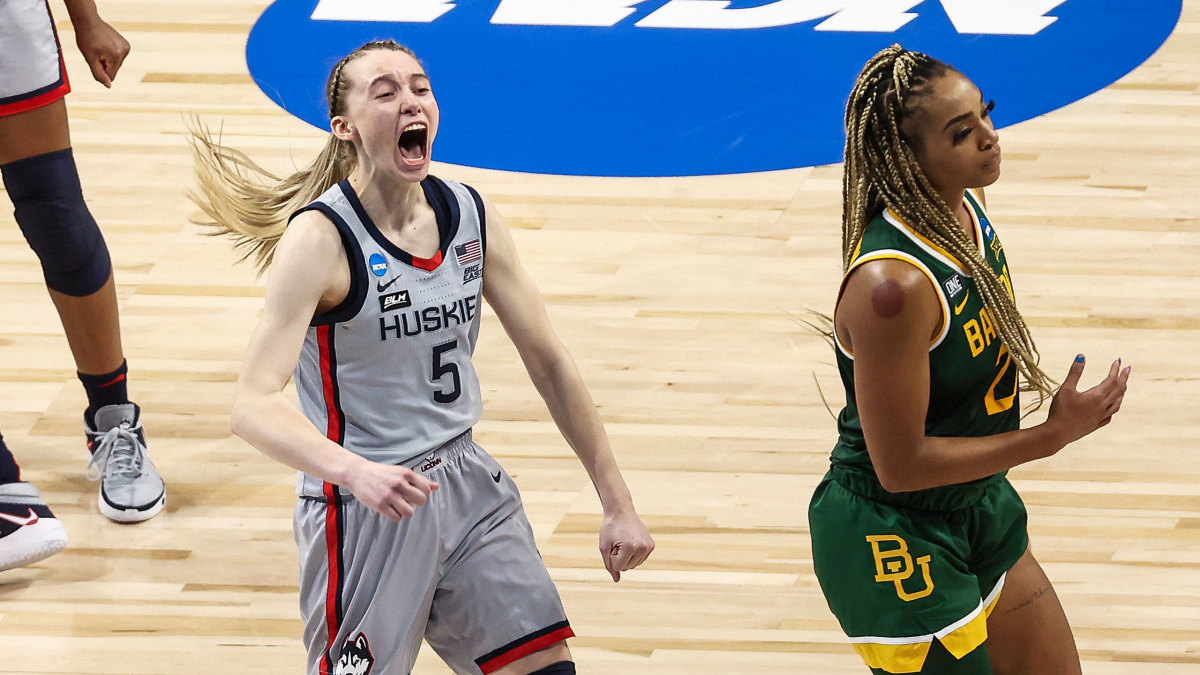 Bueckers averaged 20.1 points per game and shot 52.8% from the field all season. She also demonstrated an excellent ability to get her teammates involved, dishing just under five assists per game.
There have been numerous professional and Olympic players who finished their amateur careers at UConn. These women have all had a role in the Huskies' rise to becoming the greatest collegiate sports dynasty of all-time.
This is a bold statement to make, and I am not disrespecting any of these former Huskies, but Paige Bueckers has established herself as an all-time great after one season in Storrs, Connecticut.
The Accolades
Paige Bueckers started to turn heads when she was continuously being awarded Big East Freshman of the Week honors. I lost track of how many times the Minnesota native was given this recognition.
At the end of the season, Bueckers was named the Big East Freshman of the Year, which was expected. She was also given the Big East Player of the Year Award.
Only one freshman in UConn history has ever received both of these awards in their debut campaign…
Maya Moore.
Moore is no longer competing in the WNBA because she is fighting social injustice, but she is in the conversation for being the greatest women's basketball player of all-time. Bueckers put herself in great company by achieving this unprecedented combination.
Bueckers continued to perform with the pressure on in the Big East Tournament and the NCAA Tournament, which made people think that she had a chance of winning the AP Player of the Year.
On Wednesday, this prediction came to fruition, and Bueckers was awarded the AP Player of the Year, becoming the first freshman ever to win the title. Nobody deserves it more than the new face of UConn women's basketball.
"It's amazing, surreal for people to think of me that highly and to be in that position as a freshman. To get this award, I'm extremely humbled and grateful…The great freshmen who had done great things in their first year in college basketball, it really is surreal that it's never been done before."
Bueckers' is creating quite the collection of trophies, medals, and plaques in her dorm room. She was the espnW Player of the Year, an AP First-Team All-American, and she led the Huskies to the Big East Championship.
There is still one thing left for Paige Bueckers to do in 2021: Lead her team to their first National Championship since 2016.
The Final Four
UConn will face Arizona on Friday at 9:30 PM ET in the second National Semifinal. Arizona was awarded a three-seed in the NCAA Tournament, but this will be no pushover game for the Huskies.
However, if we know anything about Paige Bueckers, she will be ready to compete on Friday night and take the next step towards the National Championship.
Follow me on IG @tannerkern and Twitter @tannerkern_ for game previews, betting analysis, and the best stories from the sports world. Check out my baseball show, Between the Lines, on Tuesday, Thursday, and Sunday at 6:00 PM ET. Make sure and keep up with the Sports 2.0 Network, Sports 2.0 Twitter, Basketball Articles, Baseball Spotlight, and  Knup Sports for all of my latest content and best takes from around the sports and sports betting world as well!!
---
Join our Discord
to leave a question or comment regarding this article. We have sports fans talking betting all day — every day! JOIN THE DISCORD NOW AND QUALIFY FOR PRIZES & BETTING SWAG!
---