The WNBA offseason is going to start becoming very interesting on February 1st. Negotiations between unrestricted free agents and franchises began on January 15th, but official contract signings can start occurring on February 1st.

To understand how WNBA free agents, check out my explanation right here on Basketball Articles.

There are a lot of great free agents on the market in 2021. Here are my top five WNBA free agents that are available this offseason.
Top 5 WNBA Free Agents in 2021 – #1-2
1 | Liz Cambage
Las Vegas Aces
Center
Core Player

Liz Cambage is one of the most dominant centers in the WNBA. Cambage was drafted second overall in 2011 by the Tulsa Shock. She has been with the Aces since 2019. Because of her core designation, she will return to Las Vegas in 2021.

Las Vegas is expected to ink Cambage to a very big deal because of her dominant 2019 season with the team. She opted out of the 2020 season at IMG Academy due to medical reasons.
Las Vegas marked Cambage as a core player because they didn't want to lose her to another team. Because of this label, Cambage is guaranteed to receive at least a one year, league maximum contract ($221,450).

The 6'8" center is relentless in the paint. In 2019, she averaged 9.1 rebounds per game and scored 15.8 points per game. In 2018, she was an All-WNBA first team selection.

2 | Candace Parker
Los Angeles Sparks
Forward
Unrestricted Free Agent
Candace Parker is 34 years of age, but still performing at a very high level. She is an unrestricted free agent, which means the forward is free to sign with any team in the WNBA. I expect Parker to be offered a solid deal.


Parker's effort in 2020 spoke for itself. She was phenomenal from the league bubble at IMG Academy. Parker was named first team All-WNBA last season. This was the sixth time that she received this distinction in her career.

The forward finished third in the MVP race last season, but she was named the league's Defensive Player of the Year. Parker nearly averaged a double-double over the course of 22 regular season games.

She shot 51% from the field and scored 14.7 points per game. I hope the Sparks make an effort to keep Parker because she was instrumental for the success of the team in 2020.
Top 5 WNBA Free Agents in 2021 – #3-4-5
3 | Natasha Howard
Seattle Storm
Forward
Core Player
Natasha Howard didn't perform as well as people expected her to in 2020. Although, I'm not going to allow this fact to penalize her spot in my rankings. Howard can ball and this was evident in 2019. In 2019, Howard took home the WNBA Defensive Player of the Year Award.

She was also a first team All-WNBA selection. Even though she didn't put up big numbers in 2020, she came alive late in the season. The forward complimented Breanna Stewart which allowed the team to win the WNBA Championship.

The Storm didn't punish Howard for her down year in 2020. They made Howard their core player because they know she will produce in the long run. I expect Howard to sign a multi-year deal with the team because she is only 29 years of age.

Howard and Breanna Stewart on the same floor will torment the league for years to come.

4 | Diana Taurasi
Phoenix Mercury
Guard
Unrestricted Free Agent
If you think I'm crazy for putting Diana Taurasi in this list, think again. The guard may be 38 years of age, but she is still one of the league's best players.

Taurasi proved that she still has game after her solid effort throughout the 2020 campaign. Taurasi has spent her whole WNBA career with the Phoenix Mercury.

She is a three-time WNBA Champion, ten-time All-WNBA first team member, and the league's all-time leading scorer. In 2020, Taurasi led the league with 61 three-pointers. She still provides a lot of value to teams throughout the WNBA.

Taurasi can still shoot the basketball. However, she's so valuable because of her ability to mentor younger players. I don't think she will be offered more than a one-year deal, but Taurasi still deserves a starting position in the league.

5 | Nneka Ogwumike
Los Angeles Sparks
Forward
Core Player
Nneka Ogwumike has been one of the league's best performers since she was drafted first overall in 2012 by the Los Angeles Sparks. The former Stanford Cardinal didn't disappoint in the professional ranks.

In 2012, she was named the WNBA Rookie of the Year. In 2016, she won the WNBA MVP and headlined the All-WNBA first team. In 2020, Ogwumike didn't garner any accolades because she was plagued by injuries throughout the shortened season.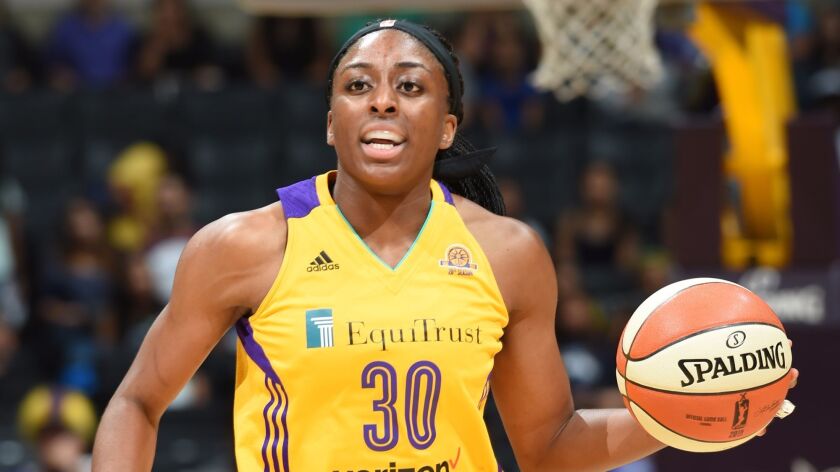 Los Angeles used their core label on Ogwumike because Candace Parker wasn't eligible. Ogwumike will return to the Sparks and have to take on a massive role in 2021 if Parker chooses to play elsewhere next season.

A big contract could be the motivation that Ogwumike needs to lead the Sparks deep into the postseason in 2021.


Follow me on IG @tannerkern and Twitter @tannerkern_ for game previews, betting analysis, and the best stories from the sports world. Be sure and keep up with the Sports 2.0 Network, Sports 2.0 Twitter, Basketball Articles, and Knup Sports for all of my latest content and best takes from around the sports and sports betting world as well!!
---
Join our Discord
to leave a question or comment regarding this article. We have sports fans talking betting all day — every day! JOIN THE DISCORD NOW AND QUALIFY FOR PRIZES & BETTING SWAG!
---