College Basketball is More Competitive Than the NBA
The NBA consists of 82 games in the regular season which can cause players to lack competitiveness since the season is relatively long. Fans have noticed that certain NBA players lack motivation and true grit compared to college basketball players. The reason why college basketball is extremely competitive is that every game matters, and every team strives for the goal of making the tournament in March.  
College basketball players have more to prove than NBA players. NBA players are already established and making millions of dollars. College players work extremely hard to be ready once their chance comes to display their talent at the next level. Due to this, the games are more entertaining. The idea of two halves instead of four quarters also makes the games more amusing and intense.  
As far as defensive intensity goes, there is an extreme absence in the NBA. College basketball coaches instruct their teams with many defensive strategies. It is infrequent to see the same intensity in the NBA, where you'll rarely see a team put on a full-court press. Meanwhile, college basketball teams have multiple press strategies. Many teams will go full-court man-to-man press or even different zones. There is no defensive strategy in the NBA.  
The Passion of Fan Bases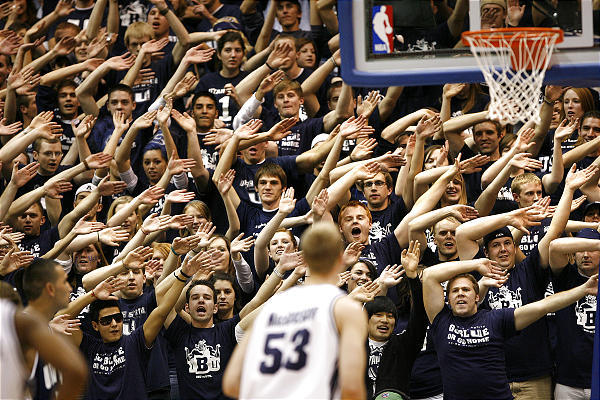 I have been to many college basketball and NBA games, and the atmospheres are entirely different. A college basketball team playing their rival team builds the most electric atmosphere in all sports. The student section gets extremely rowdy, and fans are screaming and screaming chants from the opening tip that the entire fanbase made up.  
Students come to games covered in paint and wearing every piece of team merchandise they have. You do not see crazy fan atmospheres like this in the NBA until the playoffs. Meanwhile, the atmosphere at a college basketball game will always be like this because every game means so much to the university's players and students.
People who genuinely love basketball realize the difference in passion between the NBA and NCAAB.  
March Madness
The best part of college basketball is the month of March, when 68 teams are selected to participate in the NCAA Men's Division I basketball tournament. March Madness is one of the most viewed playoffs in the United States. Fans love to participate in bracket challenges to see how close they can get to predicting each game's outcome, making watching the games even more exciting. 
With 68 teams competing in a single-elimination game to move onto the next round, this treats every game with a Game 7 atmosphere. Every moment from the entire season and all the hard work put in comes down to a single game.  
We often see the same teams playing deep in the playoffs in the NBA. A huge reason why NCAA basketball is much more entertaining is that there is most likely a new winner every year. The games are way more competitive in March Madness, where over the years, we've seen that any team can win, even if it's a sixteen seed versus a one seed. 
---
Join our Discord
to leave a question or comment regarding this article. We have sports fans talking betting all day — every day! JOIN THE DISCORD NOW AND QUALIFY FOR PRIZES & BETTING SWAG!
---